Digital security was one of the themes around which some of the Cambodia ICT Camp 2022 were arranged. It refers to approaches and methods used to protect an individual's online data, privacy, and identity. It is an important topic because although the use of mobile phones and the internet snowballed in the last decade in Cambodia, indexes of digital security skills remain limited. That is why 16 cyber security workshops and sharing sessions were arranged during the Cambodia ICT Camp 2022. These sessions allowed participants to discuss fundamental digital privacy principles, the safe use of technological devices, fake news and disinformation, and many more.
In the digital age, technology will be instrumental in shaping Cambodia's development. Acknowledging the significance of digital tools and media, the Cambodian government – through its institutions and ministries – drafted and implemented cyber laws and regulations to monitor, manage and mitigate cyber security risks in the country. The draft law on cybercrime is one of these laws. It was drafted in 2013 to establish a legal framework that tackles cybercrimes and ensures online safety.
This law was discussed during the ICT camp in 2022. Mr. Thy Try, Executive Director of Open Development Cambodia, moderated the discussion "The progress of the cybercrime draft law" which had three distinguished speakers: Mr. Nop Vy, Executive Director of CamboJA, Mr. Khoun Sokpiseth, Deputy Director of the Anti-Cybercrime Department at the Ministry of Interior, and Ms. Chhan Sokunthea, Media Development Director of Cambodian Center for Independent Media's (CCIM).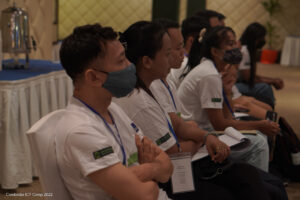 The one-hour panel provided insightful and updated information about the cybercrime draft law, which consists of 55 articles and nine chapters clustered under essential security issues such as cybercrime, online scams, and child abuse, said Khoun Sokpiseth. He continued that the draft law followed the United States' law model. Thanks to the moderator's questions, guest speakers exchange insightful ideas on the draft law. The discussion helped participants reflect critically on the upcoming challenges related to cyber law and regulatory measures of the online sphere, such as the national internet gateway (NIG), which is likely to challenge netizens' digital identities.