Growing privacy and digital security concerns in the digital era have pushed tech experts and organizations advocating for online data and protection to raise public awareness and educate the masses about technology's positive and negative consequences.
Safa Ghnaim, data detox lead project at Tactical Tech, contributed to creating digital security awareness with her participation in the ICT Camp 2022. Safa shared her professional experience in data protection in two sessions: "The Glass Room, Data Detox Kit" and "Digital Enquirer Kit". Forty participants attended both sessions, 13 of whom were women.
In the first session, the speaker introduced Tactical Tech, an international NGO based in Germany that engages with citizens and civil society organizations to explore and mitigate technology's impacts on societies. Tactical Tech created the Glass Room, a pop-up exhibition where visitors can learn and freely discuss technology, data, and privacy issues. Visitors can learn online personal data and privacy through artwork, workshops, and exhibitions, Safa explained. Since it was established in 2016, new and updated editions of the Glass Room on misinformation, IoT, or the Data Detox Kit have contributed to echoing key messages and knowledge on data privacy and protection.
Safa introduced participants to the Glass Room – Misinformation edition. It aims at showing users how their use of social media platforms and web content influences their understanding of news and information. This Glass Room's edition also covers fake news – misinformation and disinformation – deep fakes, and the latest digital security concerns. The misinformation edition consists of four topics:
Deepfake Lab: a project that aims at developing users' ability to identify deep fakes with the help of participating students.
Information Doublecheck: an application with quizzes to see if the users can spot visual misinformation and disinformation.
How your phone is designed to grab users' attention: an animated video to discover tech companies' strategies to keep users hooked to their phones, increasing users' fear of missing out (FOMO).
Screen addiction: a visual tool that allows users to add their screen time anonymously to see how their screen times compare to other users. The aim is to raise awareness of people's attachment to their phones.
After a short coffee break, the second session addressed data privacy. Safa showed that users' data could be displayed with a Google search. She also said personal data could easily be tracked unless preventive measures were adopted. To give participants new data protection strategies, Safa presented the Data Detox Kit and Digital Enquirer Kit, a self-learning guide to increasing online privacy​ and digital security. It was designed so users could improve their digital lifestyle.
Additionally, the Digital Enquirer Kit is an e-learning course about false information and how to prevent it. According to Safa, the Digital Enquirer Kit covers media literacy, information verification, fact-checking, and technique to navigate the internet safely. Altogether, these two projects are designed to offer easy-to-follow guidelines to monitor and strengthen users' online privacy when using digital media. Safa's two sessions exemplify the importance of democratizing access to educational tools to increase users' data protection, especially considering the implementation of Cambodia's national internet gateway (NIG), which is likely to compromise online safety.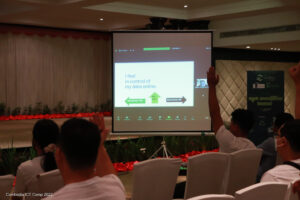 Participants also engaged in group discussions and hands-on activities to raise awareness of the importance of personal data protection. They also shared their views about the lessons learned after the talks before wrapping up the session.