The Ministry of Education, Youth, and Sport (MoEYS) in Cambodia has developed new textbooks for students in grades 1 to 3 to increase literacy rates among early-grade children, embrace a love for reading from a young age, and improve the quality of education in Cambodia. At the Cambodia ICT Camp 2022, participants had a chance to listen to Chhorn Chhayyuth, the Monitoring, Evaluation, and Learning (MEL) Manager at Research Triangle Institute (RTI), talk about Using Data Science to Improve Public Services. The presentation focused on reading skills for students in early grades and was attended by 29 participants, 10 of whom were women.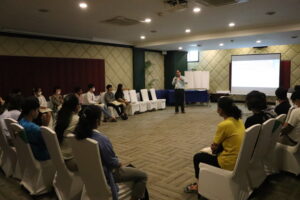 The Early Grade Reading Assessment (EGRA) was developed in 2006 to assess children's reading skills. It is a reliable instrument to measure children's reading skills progress with tasks like determining children's familiarity with alphabet letters, vocabulary fluency, and reading comprehension. An early assessment of children's reading abilities is essential because students who learn to read from early grades have a higher chance of succeeding in primary school. Increasing reading comprehension becomes harder as students grow up, which might result in higher drop-out rates.
Over 30 organizations use EGRA across 70 countries in more than 120 languages. EGRA adjusts to users with different reading comprehension levels, ages, languages, and school grades in each country, making it a highly versatile and customizable tool in various contexts.
The 2018 EGRA showed that more than half of the students in grade 1 could not get 20 consonants and 19 vowels right. Many NGOs have intervened in response to the issue, but the applicability of different reactions in schools can be hard to monitor and evaluate. To deal with the problem, the MoEYS, in collaboration with its development partners and more than 15 NGOs, has implemented Komar Rien Komar Cheh, a nationwide program that consists of guides for teachers giving core subjects, student books, and supplementary learning materials for all students in grades 1 and 2. Hence, they can increase their performance when they start their primary education. Teachers also receive nine training days and regular mentoring visits to support them in implementing the new teaching methods. After the first year since its implementation, students' ability to recognize the alphabet's consonants and vowels increased by 7% and 16%, respectively, and their ability to read at least one word increased by 6%.
After the presentation, Chhayyuth showed participants further data regarding EGRA's results: 19.4% of grade 1 students in Siem Reap could not read a single letter based on 2018 data, and grade 2 students in all regions could read 13 words on average, based on 2019 data. During COVID-19, 82.8% of male students in grade 1 could not read a single word. Creating new mechanisms to increase children's reading abilities is essential so they can succeed at school and in professional environments. Furthermore, reading is crucial in the digital era since all citizens are increasingly doing more of their daily tasks with their smartphones. Without the ability to read correctly, citizens will struggle to stay safe online and protect their digital identities, being more vulnerable to digital threats like Cambodia's national internet gateway (NIG), which will threaten people's most fundamental freedoms.